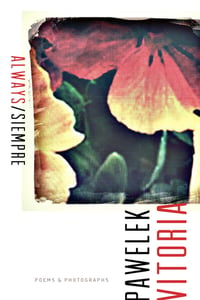 $

14.99
Coming Summer 2013, a collaborative work featuring elegant and contemporary poetry and photography by two leading American poets and artists Helen Vitoria and BL Pawelek. Always / Siempre is a work of ekphrasis bringing together poetry and photography through two unique perspectives. All photographs that accompany B.L. Pawelek's poems where taken by Helen Vitoria, using the poems as creative inspiration, just as Helen Vitoria's poems inspired BL Pawelek's photographs. Each poem will be translated to Spanish with the English and Spanish versions presented side-by-side.
Helen Vitoria's poems and photographs can be found in many online and print journals. Recent poems appear and are forthcoming in: The Awl, ELIMAE, Rougarou, PANK, FRiGG Magazine, Gargoyle, Barn Owl Review, DARK SKY MAGAZINE, and others. She is the author of nine poetry chapbooks, a poetry pamphlet (Greying Ghost Press, 2012) and a full length poetry collection: Corn Exchange (Scrambler, 2012). Her poems have been nominated for Best New Poets & the Pushcart Prize. She is the Founding Editor & Editor in Chief of THRUSH Poetry Journal & THRUSH Press.
B.L. Pawelek is a husband, dad, and hiker living in Eden Prairie, MN. He attended to Loyola Marymount University and has had his poetry and photography published in numerous journals. He has also been nominated for the Pushcart and Best of the Net prizes.